What is Forest for Life NAMA Support Project?
Niger Delta Forest for Life NAMA Support Project,
Climate Change Adaptation and Mitigation project.
For farmers, Fishermen, household and Communities who are the critical benefitiaries and agents at protecting, biodiversity in the rainforests, Coastal Mangroves, its river basins and watersheds and support the inhabitants by developing their management capacity and sustainable economic alternatives.

Objectives of Niger Delta forest for Life NAMA Support Project
Protecting Biodiversity
Adapting and Mitigatimg the impact of Climate Change
Community based Forest management
Deforestation Free Supply Chain
Strategies:
Grassroots mobilisation, for forest conservation, cabacity building and awareness campaign and education outreach.
Management of existing tropical forest reserves and national parks
Identification of area of coservation interes, endager species of flora and faunasWorking with communities to identify land use potential corridors and areas that need restoration.
Promoting renewable and sustainable value added economic opportunities to empower the rainforest inhabitants.
Opening community participatiory conservation pilot schemes.
Establishing networks to map out production and distribution of rainforest renewable resources.

For the purpose of implementation, RLP is divided into three parts:

RAINFORESTRESOURCE NETWORK,
COMMUNITY FOREST MANAGEMENT SCHEMES AND
ENVIRONMENTAL OUT LOOK

The greatest frustration when visiting our rainforest rural communities is the high level of forest fragmentation and degradations. This situation has impaired agricultural yields, in some area leads to polluted water course and loss of useful native species of plants and animals.

It is sad and simple fact that, rainforest are being destroyed for the fertility of its shallow top soils that vanishes rapidly and the little profit it yields for timbers.
However, the solution lies in educating the natives and by providing markets for its renewable and sustainable resources.

Rainforest for Life Project's Primary objectives are to seek out for capital and opportunities to partner with organizations that have the funds while we provide technical expertise, to create and expand single regional market for thousands of rainforest renewable resources in Nigeria. Revived and expands community-based forestry schemes which could ensure more rational use of rain forests and foster better life in our rural communities. As well as enhance grassroots implementation of of Nigerian Biodiversity Strategy and Action plan (NBSAP
GLOBAL WATER NETWORK NIGERIA
INTRODUCTION

Global Water Network Nigeria (GWNN)

Global Water Network Nigeria is an initative of Centre for Environmental and Community Community Development aimed at promoting a comprehensive approach to community environmental health, sanitation and water resources management, in support of the Federal Government of Nigeria Water quality management programme

There remain over one billion people without access to an adequate water supply and 2.4 billion who lack basic sanitation, leaving millions to die every year from otherwise preventable water-related diseases. And the largest percentage of them are African, our rural populations lack access to portable water especially women, and children.

Eighty-four percent of the global population without access to an improved source of drinking water lives in rural areas..

THE AIM OF GLOBAL WATER NETWORK NIGERIA GWNN

The primary aim of CECD Global Water Network Nigeria is to educate and mobilizes support for targeted schools and communities in Nigeria especially in the Niger Delta, to develop and maintaining their water resources in harmony with the environment.

The water problem of Nigerians especially in the Niger Delta is centered on quality. Oil drilling and other human activities often pollutes the water supply system, oil spillage is frequent which sometimes polluted the streams and the underground water, many of the communities getting their water from wells, Rivers and stagnated streams.

The schools in the cities and the local communities lack clean water and basic sanitary environment this exposed their students to all form of disease that are water related. The impact on female students is likewise severe, as more than half of all girls who drop out of primary school do so because they lack separate toilets and access to clean water. Among children, the leading cause of death in the world is diarrhea, a water-borne disease that is entirely preventable with access to clean water and basic sanitation.

The primary geographical focus of GWNN is the 9 states that make up the Niger Delta of Nigeria; with about 3000 long settled communities 112,000 square kilometers and with population of about 27million people and the hub of hydrocarbon industries in Africa .

Objectives are:-

1 To provide water quality monitoring, sanitary and forest conservation education in schools and communities

2.Organize community forums to enlighten the communities that share common water sources.

3. Assisting the targeted schools and communities in provision of drinking water, sanitation, forest conservation watershed management and water quality monitoringl.

4. Assisting the communities to manage their forest and land holding as the principle for watershed management

Action Plan

·Working with National River Basin Development Authorities to educate and create water quality awareness in the local communities and schools.

Partner with local communities to develop portable drinking water projects.

Working with LGAs to develop forest plantations to protect primary water sources.

Education and sensitization programmes in primary, secondary, and tertiary institutions and helping to develop green school project.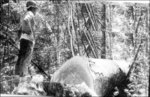 forest degradation increases global warming
An ancestral agricultural process
The emergence of agriculture, and with it of civilization, roughly 10000 years ago started the process of domestication, by farmers, of the plants and animals that today feed the world. Agriculture emerged independently in different continents, in what are called "the centers of origin" of crops. When our ancestors started to identify, collect, farm and disseminate those agricultural species, a process was set afoot of mutual adaptation between humans and the plants they grew, and between these plants and their environment. While we depend on cultivated plants to satisfy the basic human need for food, crops depend on wilder species for generic improvements and humanity for their continued existence: much of their genetic diversity can only survive through continued human use and conservation.
THE CENTRE FOR ECOLOGICAL AND COMMUNITY DEVELOPMENT(CECD)